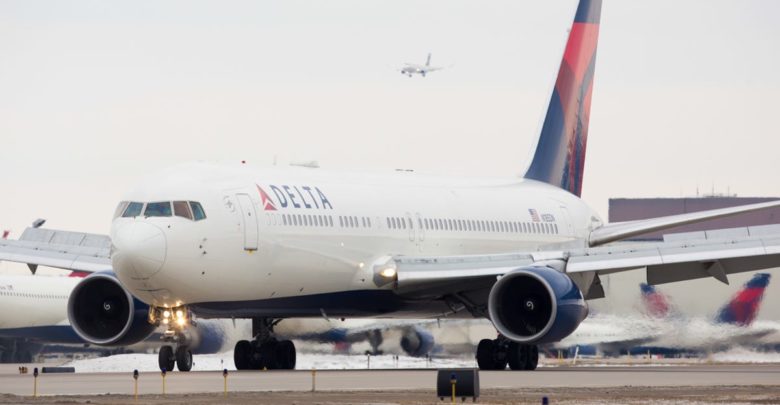 About 30 travellers from New York who are non Ghanaian passport and resident permit holders were disembarked on Monday 16th March on a Delta Flight (DL 420) from JFK New York enroute to Ghana following government of Ghana's issued travel advisory which came into full force on Tuesday March 17 at 1pm in the fight against Coronavirus (Covid 19).
The two Hundred and twenty Two seater Flight DL 420 which was at Terminal 4 according to eye witness had 95 people on board before the announcement came in for recheck in.
The Passengers were checked in after going through the immigration and the boarding gates with Visas checked and doors closed for a take off at 11: 10pm where an announcement came from the management of the flight that government of Ghana's Travel advisory amid Covid 19 Pandemic could not allow non Ghanaian passport and resident permit holders to travel to Ghana.
This move led to chaotic situation leading to management ordering all travelers on board to be disembarked and rechecked in.
After the exercise about 30 people were stopped from travelling to Ghana.
Beachfmonline interacted with a Ghanaian passport holder who was on board but agreed to speak on a condition of anonymity.
"A flight from JFK New York Delta Flight DL 420 which was at Terminal 4 that had already bordered about 95 people and close counter all of a sudden came back that the travel advisory from the Government of Ghana will not allow other nationalities to come to Ghana as a result they should disembark, it became a bit chaotic since most of the travelers with American passports are non Ghanaian passport and resident permit holders. There were lots of back and forth which led to the management of the flight disembarking everybody together with all luggages to recheck them in again this time with only holders of Ghanaian passport and those with residence permit.
So a Flight of about 222 seater which has initially booked 95 people on board eventually dropped below 50 people"
In a similar development two Italians who tried to enter Ghana from the epicenter of the Coronavirus disease(Covid -19) in Europe were also prevented from entering Ghana Monday Night, March 16 2020 according to the information Minister Kojo Oppong Nkrumah.
This goes to emphasis the fact that government travel advisory which was issued on March 15th 2020 is been globally adhered to.
Government of Ghana as part of its travel advisory aimed at controlling the level of imported Coronavirus cases has issued a travel directive which disallowed non Ghanaian citizens and persons without Ghanaian resident Permit who have also been in countries that have been affected by the disease (COVID 19) within the last 14 days not to be allowed into the jurisdiction.
Currently all 7 cases of coronavirus recorded by the country according to the ministry of health were imported cases.
By Kwame Offei