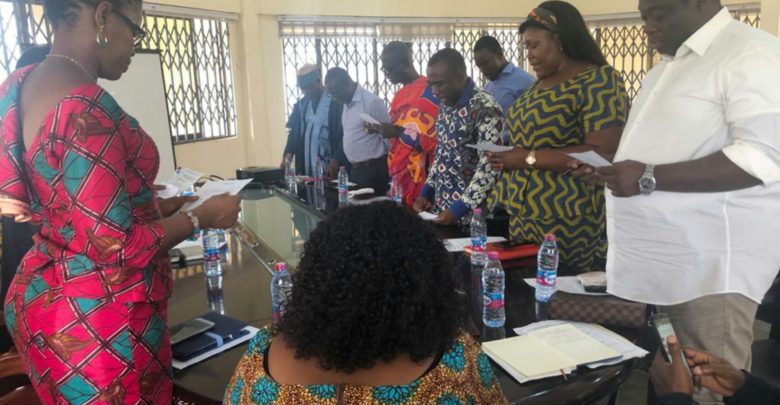 The Effia Kwesimitsim Municipal Assembly (EKMA) in its effort to improve the stardard of health in the Municipality has appointed 10 member Municipal Health Committee to plan and develop proactive and ad hoc health policies to deal with all forms of primary health care and emergency response  issues .
The 10 memeber committee which is expected to be chaired by Dr Charles Anzie-Mensah of Effman's Clinic was sworn in today by Micheal Ampadu, the Magistrate of the District High Court B, Takoradi to commerce the operations of the committee.
Speaking at the ceremony, Hon. Kojo Acquah, Municipal Chief Executive of Effia Kwesimintsim Municipal Assembly explained why the assembly made a decision of going for members with diverse background
"Though the committee is a health oriented, the members are people from different backgrounds because the need for diversity of expertise is very necessary since the interventions cannot be carried out successfully without the support of all the department and Units that are part of it"
He also tasked the members of the committee to help in developing a Municipal Emergency Preparedness and Response Plan that accounts for all potential emergencies, disease outbreak and detection of other emergent public health hazard.
The Committee Members are also required to undertake periodic emergency response simulation activities at the Municipal and Community levels to test how prepared the Municipality is in the wake of any health emergency
Mr Kwame Adu Mante, the Founder and Chief Excutive Officer of Focus 1 group was also appointed by Effia Kwesimistim Municipal Assembly (EKMA) as Part of 10 member Municipal Health Committee.
The move by the assembly to draw his expertise to enhance the standard of health at EKMA goes a long way to affirm his quest and passion for quality health services in the Sekondi Takoradi Metropolis and the country as a whole.
Mr Kwame Adu-Mante's continues philanthropic works and passion for human health influenced the establishment of the Kwame Adu Mante health post located inside the Takoradi Main market which currently serves as the first point of call to cater for the health needs of traders at the market.
The facility which is estimated to cost around one Hundred Thousand Ghana Cedis has been handed over to the Sekondi Takoradi Metropolitiant Assembly.
Below is a list of the 10 member Municipal Health Committee
NAME DESIGNATION STATUS 1.Hon George Yanke Assembly Member Apramdo Member
2. Mrs Joyce Bagina Municipal Directir of Health Secetary
3. Ajhaji Sheik Yusif Kobi Bar Mosque, Effiakuma Member
4. Hon. Ing Faustina Ofori Assembly Member, EKMA Member
5. Rev. Solomon Sobeng Kwesimintsim Methodist Member
6. Dr. Adndze- Mensah Effman's Clinic, Apremdo Chairman
7. Nana Egodzi Essoun III Chief of Kwesimintsim Member
8.Kwame Adu- Mante Focus One Group of Companies Member
9. Medical Superintendent Kwesiminstim Hospital Member
10 Hon. Perpetual Appiah Assembly Member- Kwesimintsim Members
story by kwame offei