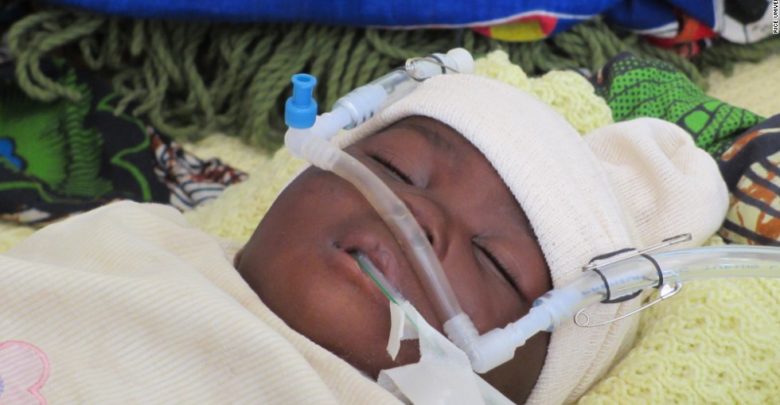 The Effia Nkwanta Pediatric Unit has called on the general public to support its effort towards saving the lives of premature babies who need special support and care to survive through the acquisition of a device called Continuous positive airway pressure (CPAP).
Dr Price Boadu, a senior officer at Effia Nkwanta Pediatric Unit made a passionate appeal during a visit by the Head of Regional Tourism Authority, Mr. George Nkrumah Ansere and other stakeholders who were present to express love and kindness through the distribution of chocolates to children and mothers at the facility on the Valentine's Day.
According to him some of the challenges the department faces include, low staff capacity inadequate infrastructure and security personnel, but the most pressing need of the facility as of now is the lack of Continuous positive airway pressure device (CPAP) needed to save the lives of premature babies.
''One of the major challenge is the lack of CPAP machine for babies born before their time or born too early who usually have issues with their breathing but we don't have the machine but an improvised machine which is currently helping to deal with the situation but it is not the best. We believe a professional machine will help in the delivery of our work''.
He also touched on a campaign his department embarked on during November 2019  which targeted 5 to 7 Continuous positive airway pressure devices (CPAP) leading to  individuals and private donors coming together to procure two of the devices for the Unit.
"We started a campaign in November, we wanted to at least get 5 to 7 CPAP machines, people have donated and we currently have two of the machines at our ward. We are also targeting a third machine therefore will urge the general public to continue assisting us ''
Dr Price Boadu Finally revealed that the device cost between GH9500 to GH10,000 per a machine especially the ones which have been designed for developing countries.
Continuous positive airway pressure, commonly called CPAP, is a type of respiratory support, or mechanical ventilation, used in adult and pediatric patients. In premature babies, CPAP is delivered through a set of nasal prongs or through a small mask that fits snugly over a baby's nose.
CPAP can also be used to deliver higher concentrations of oxygen to premature babies who have trouble maintaining good oxygen levels in their blood.
Story By Kwame Offei